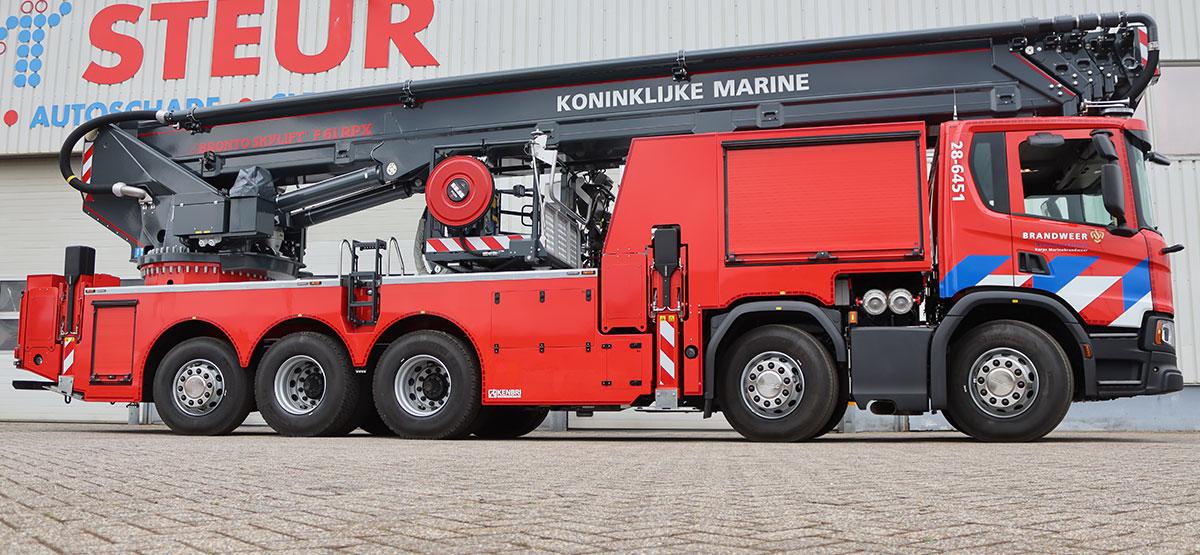 Fire engine
Fire engine
Fire engines usually have to put up with a lot of heat, water, foam and, in this case, seawater. Due to the heavy load and the circumstances these types of vehicles are susceptible to corrosion. Something that does not benefit the lifespan. This requires especially good protection.
This week, the Den Helder marine fire brigade took delivery of a brand new fire engine. With an extension boom of no less than 43 metres, this is currently the largest fire engine in the Netherlands.
At the request of, and in cooperation with SVDB Coatings & Qotec, Steur applied two complete layers of NanoClear+ to the fire truck. This provides the fire engine with excellent protection against external influences, such as corrosion, while retaining its appearance and colour for many years.
The water and dirt-repellent effect of NanoClear+ ensures that the fire engine dries much more quickly, is less affected by dirt such as ash residue and cannot be affected by chemicals used in various types of extinguishing agent. The extremely hard coating also ensures that the vehicle is less susceptible to scratches and damage.
In any case, the Royal Navy fire brigade was very happy with it!
Want to know more about NanoClear+? Click here